Expert Leak Repair Services in Keystone Heights, FL
As May approaches, the rainy season causes worry for those with leaking roofs. Leaks are a source of significant damage to your home and belongings, so it's crucial to act fast if you suspect any water infiltration.
At Kayco Roofing in Keystone Heights, FL, we're a professional roofing company that understands that leaks are more than just an eyesore. Our team of highly qualified and certified roofers will quickly identify leak issues and provide immediate solutions. If you need leaking roof repair, Kayco Roofing is here to give you a hand!

Get To Know Our Reliable Roofing Solutions
This Is What Our Customers Are Saying About Us!
If you need roof leak repairs in Keystone Heights, FL, don't worry, you're not alone! Check out what some of our customers had to say about their experience with Kayco Roofing: 
"Thank you, guys, for everything. All of you are a breath of fresh air in this crazy world we live in. From the first to the last day, you guys are a first class well-oiled machine at caring for my roof. Thank You" -John M
"Kayco Roofing came highly recommended by my neighbor next door. They realized I needed assistance quickly and arranged to replace it with Kayco and my storm-damaged roof in record time. My old roof couldn't have made it through another hurricane season." – SCAMPI ONI.
What Our
Leaking Roof Repairs
Service Entails & Its Benefits
At Kayco Roofing, you must feel confident and knowledgeable about the process. Here's how our roof leak repair solutions in Keystone Heights, FL process work:
1. Inspection
We begin with a thorough inspection, allowing us to find any hidden potential issues. This saves homeowners from costly repairs and further damage to their property.
2. Leak Detection
We use the latest leak detection technologies to identify even the smallest leaks. From infrared imaging to moisture meters, we have the tools to locate leaks quickly and efficiently.
3. Repair
Once we identify the issue, we provide a lasting solution that not only fixes the immediate issue but also prevents future leaks. We use no-harm solutions that won't cause damage to your roof or property.
4. Follow-Up
We don't consider the job done until we've followed up with our customers to ensure that the repair has been successful and that they are satisfied with our service. It provides peace of mind knowing that we stand behind our work.
Importance Of Getting Rid Of Leaks
At Kayco Roofing Keystone Heights, FL, homeowners should not have to feel like they are at the mercy of their homes. Leaks can lead to several consequences, such as:
Structural damage:

that can cause your roof to collapse.

Growth of mold and mildew:

may lead to respiratory problems and other health-related issues.

Compromised indoor air quality:

makes maintaining a healthy home environment difficult.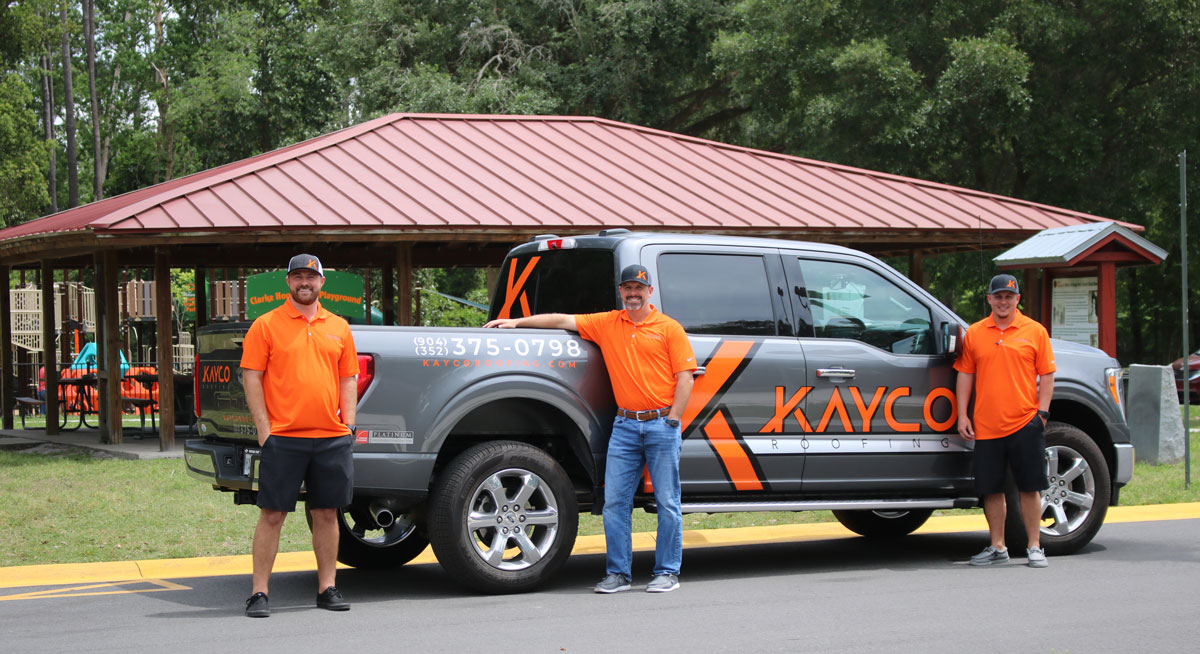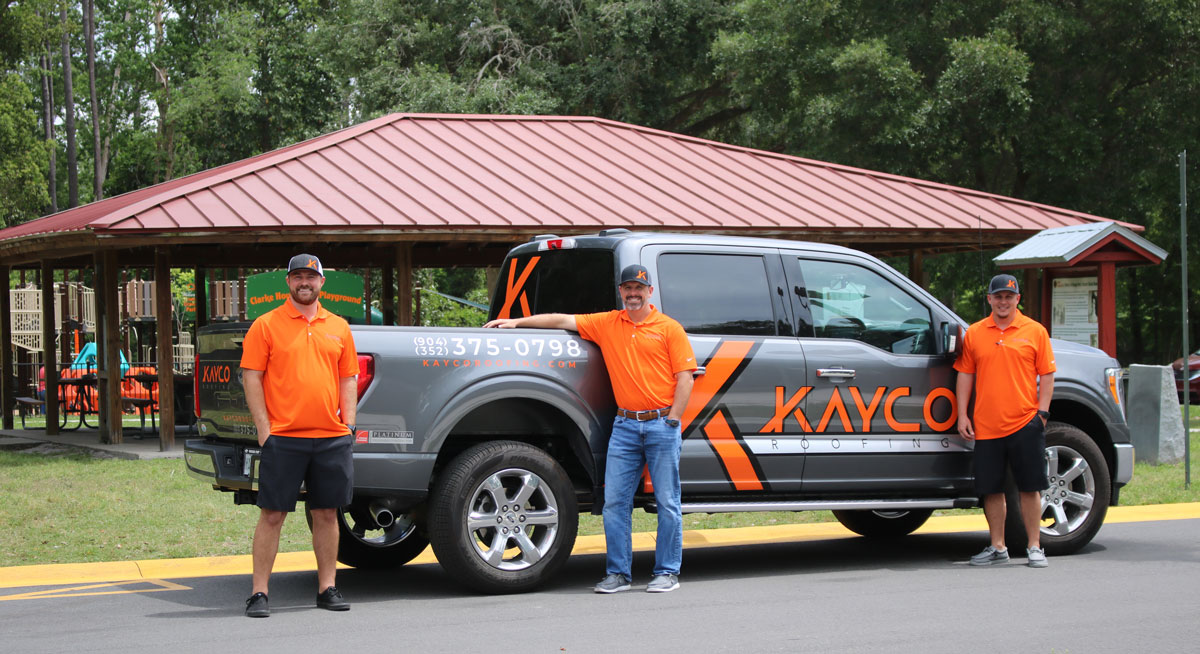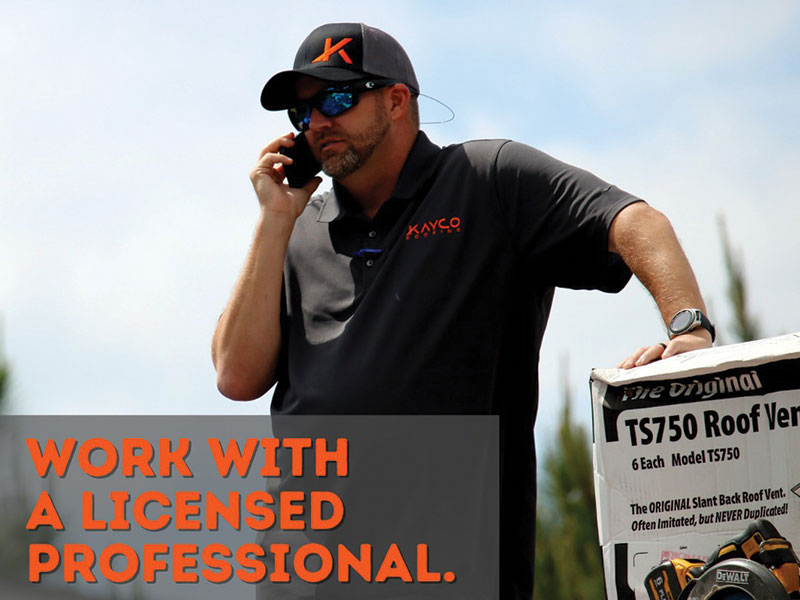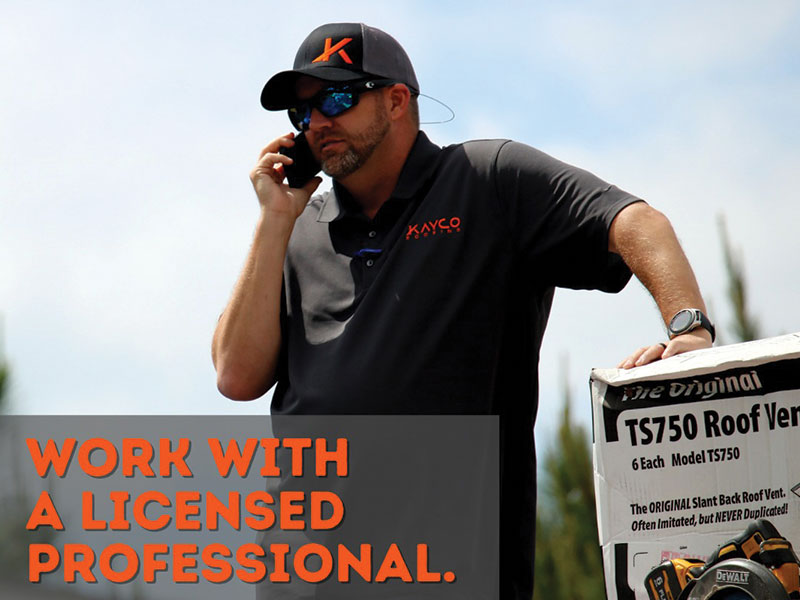 Rely On Our
Leaking Roof Repair
Solutions Today!
Don't put your family and home at risk. A small issue can turn into a nightmare when neglected. Kayco Roofing, we understand the stress and frustration that can come with leak issues in your home. We are dedicated to providing top-notch service that meets the homeowner's needs. For many years, we've helped dozens of homeowners to get rid of their leaks and protect their homes.
We're committed to excellent customer service, prompt response times, and reliable inspections! Work with us in 3 simple steps:
Contact us via phone or email, or complete the form on our website. 

Receive an estimate for the project.

Enjoy a safe home ready for the rainy season!
Contact us today to learn more about our process and how we can help you with all of your roofing needs.