Expert Roof Inspection Services in Lawtey, FL
Expert Roof Inspection Services in Lawtey, FL
As Floridians, we all know that the rainy season is just around the corner, and with it come unpredictable weather patterns that can wreak havoc on our roofs. If you don't have a roof in good condition, you might face leaks, water damage, mold growth, or even structural issues. For this reason, it's essential to ensure your roof is in top shape before the rain starts pouring.
That's where Kayco Roofing comes in. Our roofing company offers expert roof inspection services in Lawtey, FL, designed to ensure your roof's longevity and prevent any potential problems. Don't risk having a damaged roof during the rain. Let us help you keep your home safe and dry!

Benefits Of Hiring Our Roof Inspections In Lawtey, FL!
As a homeowner, protecting your roof from potential damage during the rainy season is crucial. Kayco Roofing in Lawtey, FL, offers expert roof inspection services designed to:
1. Maintain Your Home's Structural Integrity
Our roofing experts thoroughly inspect your roof, checking for any signs of wear and tear, water damage, or mold growth that could lead to structural damage over time.
2. Identify Any Potential Issues
Our team looks for any signs of damage, such as loose or missing shingles, damaged flashing, or clogged gutters. You can prevent larger repairs by detecting and addressing these problems early on.
3. Prevent Costly Future Repairs
Our team will identify and address any minor issues before they become major, helping you save money in the long run.
4. Extend Your Roof's Lifespan
Once we identify any issues, we recommend solutions to ensure your roof stays in top shape. By keeping your roof in top condition, you can extend its life exponentially.
What You Can Expect When Working With Us
At Kayco Roofing Lawtey, FL, we understand that heavy rainfall, strong winds, and hurricanes can cause significant damage to your roof. Such situations can make homeowners like you feel worried and overwhelmed. That's why we are committed to:
Conduct accurate and detailed inspections: By using these advanced tools, we can provide a more comprehensive inspection than traditional methods, leaving no stone unturned.
Providing a comprehensive report with detailed recommendations: We ensure homeowners have all the information they need to make informed decisions about their roof's maintenance and repair.
Offer personalized solutions: Our team of experts will work closely with you to develop the right solution, ensuring your roof stays in top shape for years.
Let Our Roofers Help You Keep Your Family & Home Safe!
Neglecting regular inspections can worsen issues, requiring costly repairs or an early roof replacement. If you're a homeowner looking for roof inspections in Lawtey, FL, to protect your roof, at Kayco Roofing, we're ready to help you take control of the situation and avoid future issues.
We're committed to quality inspections, timely service, and reliable customer care. Don't let the rainy season catch you off guard. We're just 3 steps away:
Reach out to us by phone, email, or website form.
Get an estimate for your roofing project and set up an appointment.
Allow our professionals to assess and solve any roofing issues you may have!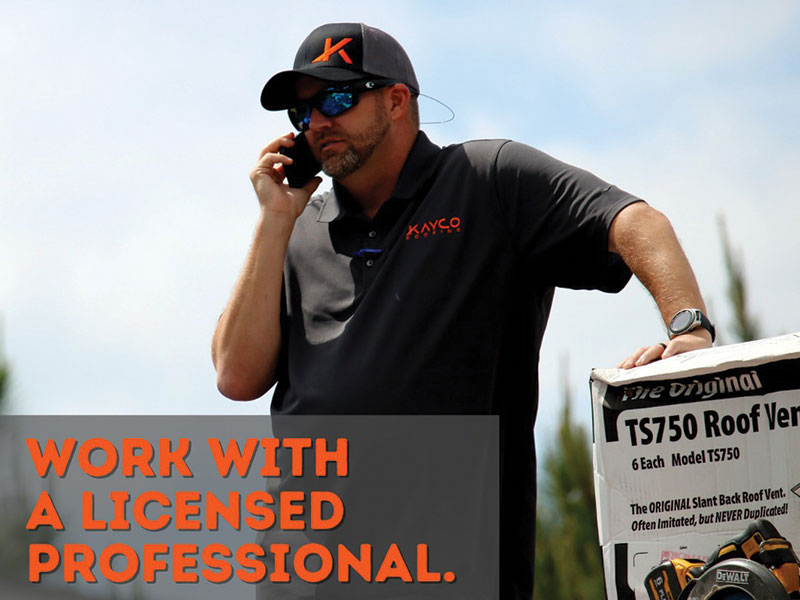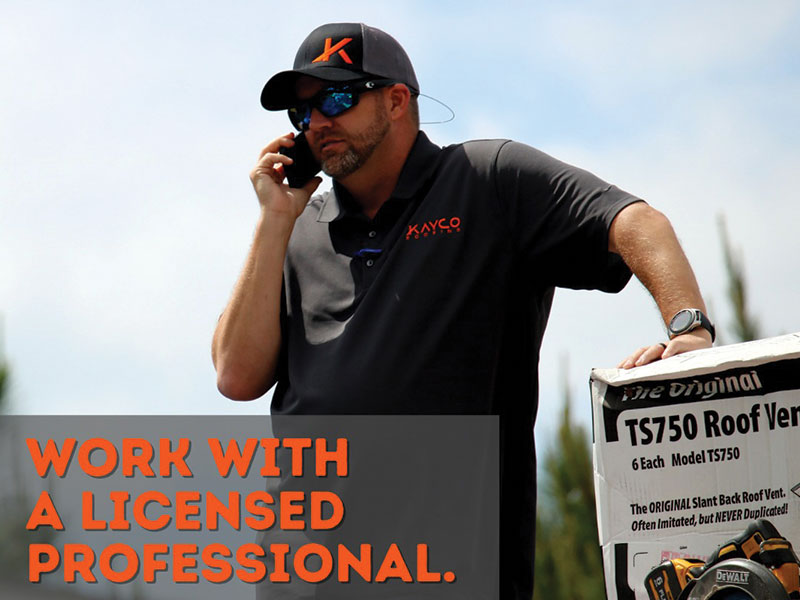 Contact us today to learn more about our process and how we can help you with all of your roofing needs.