KayCo Roofing: Your Trusted Roofing Services in Ocala, FL
As a homeowner in Ocala, FL, you always look for ways to enhance and safeguard your home. But with so many companies claiming to be the best, picking the right one can feel like finding a needle in a haystack. 
Meet KayCo Roofing, your go-to roofing contractor. We understand the challenges that come with choosing a service provider. You shouldn't have to gamble with your home's safety and value. At KayCo, we share your concerns and commit to providing top-notch roofing solutions.
Comprehensive, Reliable, And Tailored Services
At KayCo Roofing, we specialize in a variety of services designed to meet your unique needs:
Residential Roofing
We take pride in offering top-notch roofing solutions that go beyond functionality. Our team of experts ensures your home stays safe from the elements and improves its aesthetic appeal. We use high-quality materials and superior craftsmanship to deliver a roofing solution that exceeds your expectations.
Multifamily Roofing
We specialize in comprehensive roofing solutions multi-unit properties. Our roofers strive to protect your property and enhance its curb appeal, offering added value for owners and residents.
Roofing Repairs
Our highly skilled team is well-versed in diagnosing and fixing the most common roofing issues. Our repair services ensure the long-lasting durability and optimal performance of your roof. We take pride in our clients' satisfaction. 
Roofing Claims
We provide comprehensive assistance with insurance claims, working diligently to ensure you receive the compensation you deserve for your losses and damages. Our roofing experts are dedicated to guiding you through the entire claims process, advocating for your rights, and maximizing your claim settlement. 
Storm Damage
We understand the urgency of storm-related damages and provide immediate assistance to minimize further harm to your valuable property. Our dedicated experts are equipped to handle various issues, from roof leaks and structural damage to water infiltration and debris removal. Rest assured, we are here to help restore your property to its pre-storm condition.
Take Control Of Your Roofing Needs With KayCo
As the best roofing company in Ocala, FL, we pride ourselves on our core values: integrity, understanding, and proven results. We believe in honest and transparent dealings, superior workmanship, and delivering on our promises. Ready to take the next step? It's as easy as 1-2-3!
Reach out to us to discuss your needs.

Our experienced team will assess your property and provide tailored solutions.

Sit back and enjoy the peace of mind with a sturdy, long-lasting roof.
With KayCo Roofing, you not only get a roofing contractor, but you also get a partner that puts your needs first. The result? A high-quality, durable roof that stands the test of time and weather, increasing your property's value. For top-tier roofing solutions, trust KayCo Roofing – your roofing services in Ocala, FL.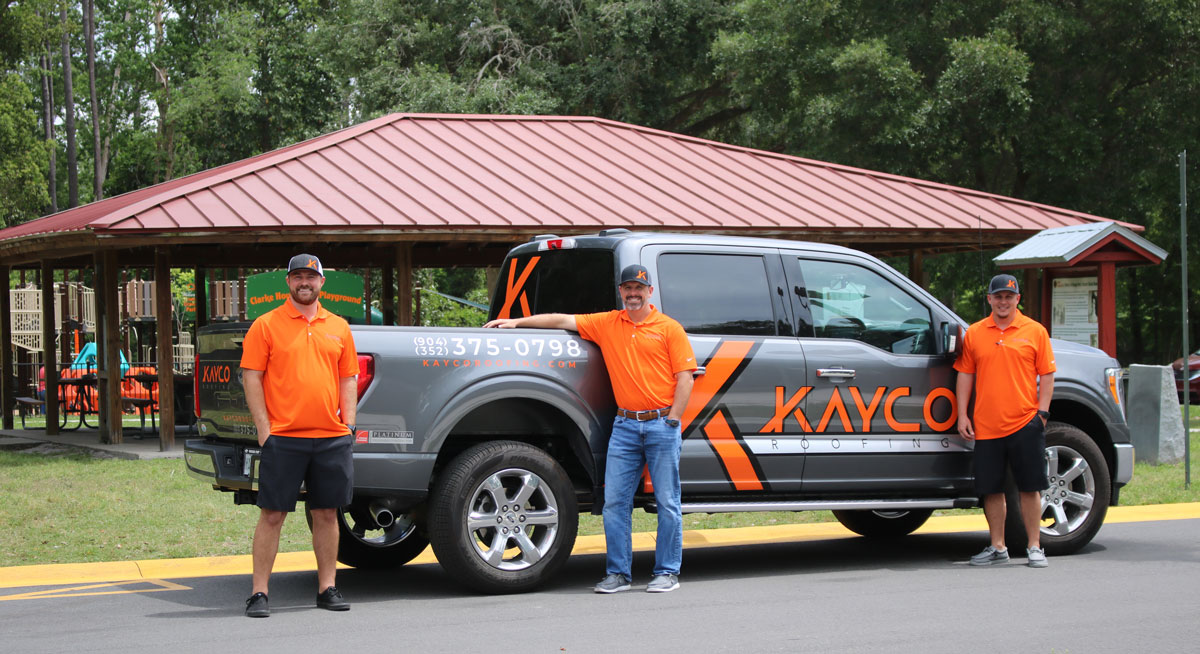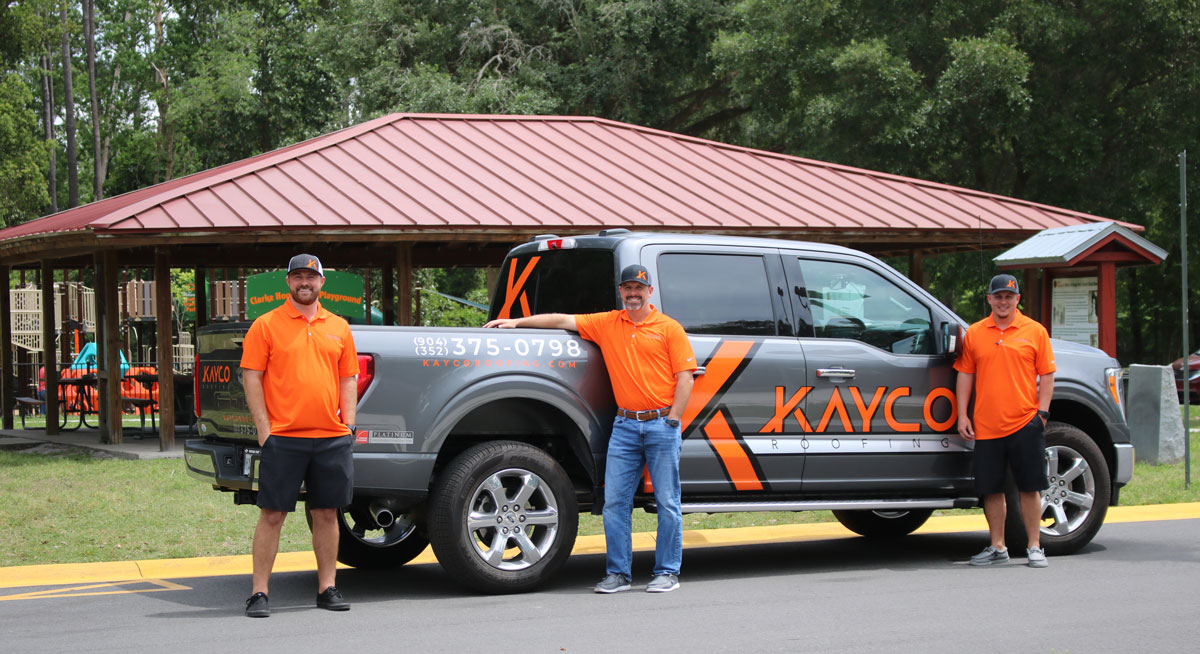 Contact us today to learn more about our process and how we can help you with all of your roofing needs.
Do You Need Roofing Services or Maintenance?
KayCo Roofing's professionals provide top-notch customer service, ensuring that your needs are met every step of the way.
KayCo Roofing is a local, family-owned business, with more than two decades of roofing expertise. We are the preferred North Florida roofing contractor with offices in Orange Park and Gainesville.

Call Now: (904) 375-0798

Call Now: (352) 375-0798
© Copyright 2022 – KayCo Roofing CCC1328803. All Right Reserved.
Designed and Developed by St Louis Web Design