Superior Leak Repair Services In Hampton, FL
Yay, it's the rainy season in Florida. But wait! Is your roof ready? While the rain can be a welcome relief from the heat, it can also pose a serious threat to your home and belongings if you're unprepared. Leaks in roofs can lead to irreparable damage.
But don't worry; Kayco Roofing in Hampton, FL, is here to help! As a trusted provider of leak repair services, we have the expertise and reliability to ensure that your home stays protected throughout the rainy season. Our team of experienced professionals has been serving the Florida community for years, and we know exactly what it takes!

Get To Know Our Reliable Roofing Solutions
We Offer Simple
Leaking Roof Repair
Processes
At Kayco Roofing, we understand that every homeowner aspires to ensure their family's safety. With our processes, we make it easy for you:
1. Comprehensive Inspection & Diagnosis
We conduct an extensive inspection to identify the cause of the leak and assess any underlying issues. We provide a detailed report outlining the repairs needed to ensure you clearly understand the damage.
2. Repair & Restoration
We perform the necessary repairs using the latest tools, ensuring your roof is restored to its original condition. We also recommend applying maintenance regularly.
3. Comprehensive Warranty
We offer a warranty, so you can relax without worrying about future leaks or unexpected expenses.
Our Clients' Testimonials
We understand that with many roof leak repair options in Hampton, FL, knowing who to go with can be overwhelming. We've gathered some opinions from our happy clients:
"I would give KayCo an A+! They worked very hard to earn my business and were competitively priced, as a matter of fact, the best price that I found out of five contractors. They were professional, courteous, fast, on time, and provided quality products. They even worked well around the city that was paving my court the day they installed my roof!" — Randy Moyer.
"Had a re-roof done (for insurance co.) excellent work. Quick response for an estimate, and once accepted, less than 2 wks for schedule and a single day for installation. Well done work and great clean up & haul away." — Russell Grokett.
At Kayco Roofing in Hampton, FL, we offer affordable and flexible payment options to ensure all homeowners receive the best services. Plus, we'll help you avoid further damage to your property, address structural issues properly, avoid mold growth, and compromise indoor air quality.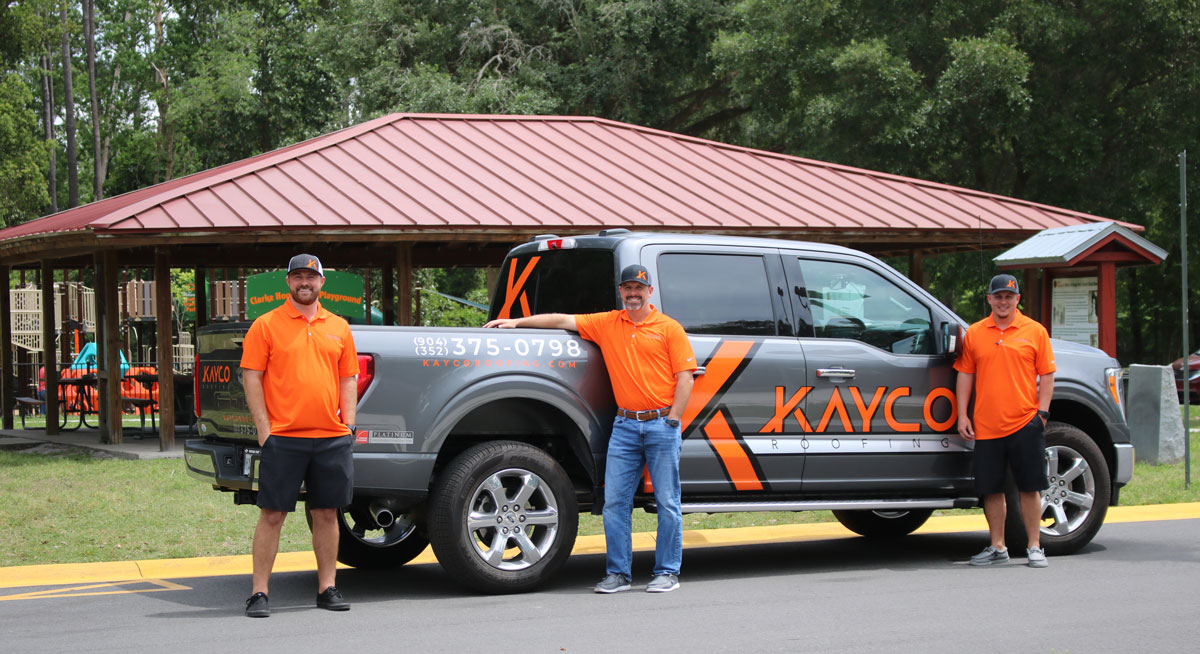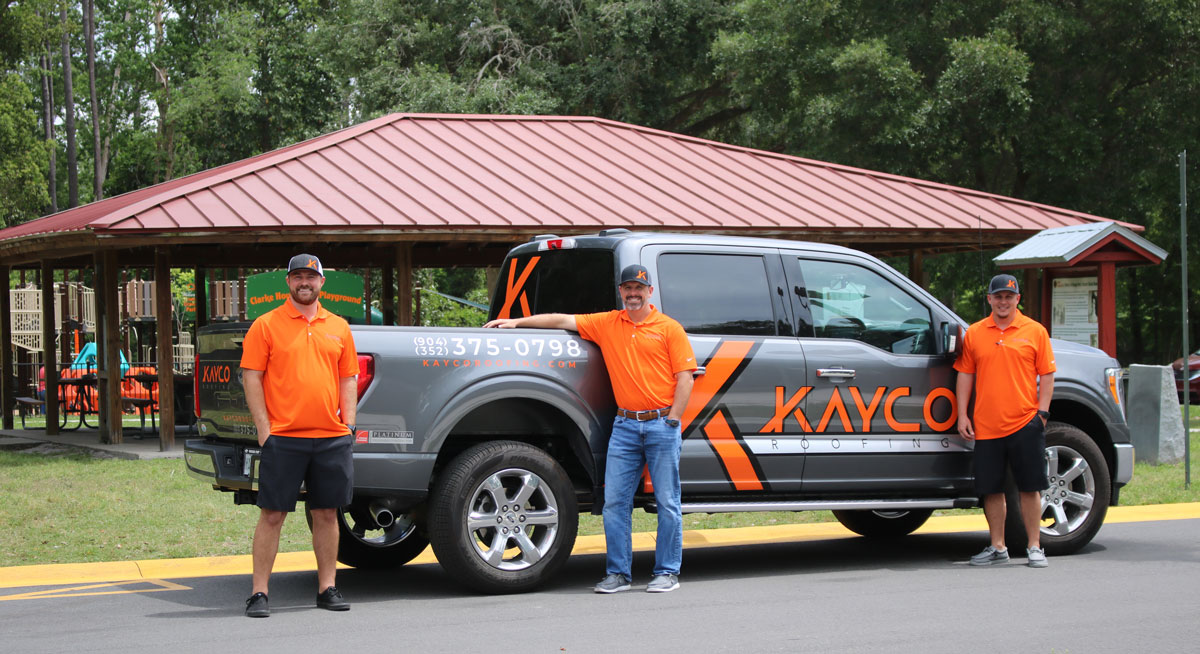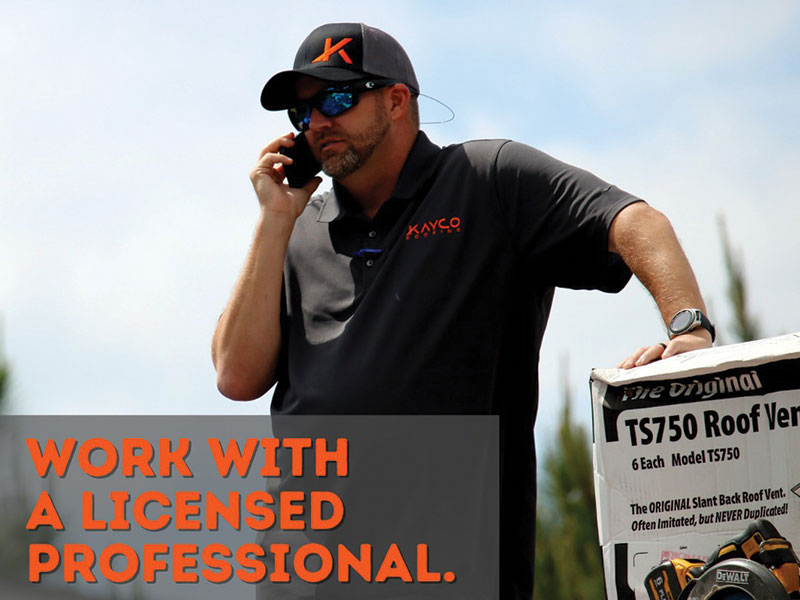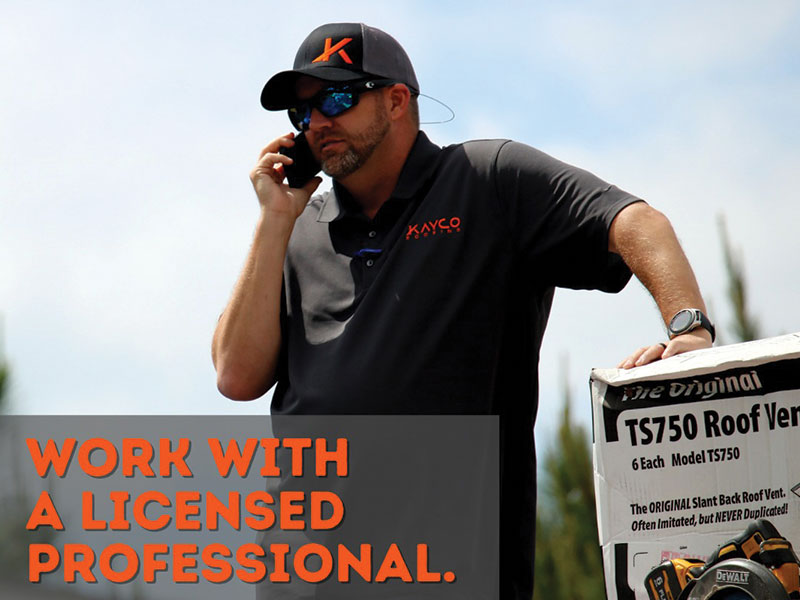 Go With The Best
Roof Leak Repairs In Hampton, FL
, Today!
Don't let roofing issues lead to costly failure! Choose Kayco Roofing and get the peace of mind you deserve. With our commitment to excellent customer service, prompt response times, and reliable inspections, we are confident in our ability to provide effective solutions.
Get a great solution in 3 steps:
Schedule an inspection:

Schedule a roofing inspection via phone or email. We'll identify any issues and provide a transparent cost estimate.

Receive a plan of action:

Get a detailed plan of action based on our assessment. We'll then carry out the repairs.
Rest Easy: With our comprehensive warranty, you can rest assured that your roof is in good hands!
Contact us today to learn more about our process and how we can help you with all of your roofing needs.