Supreme Emergency Roofing In Lawtey, FL
With the rainy season beginning in Florida, homeowners must be vigilant about the conditions of their roofs. Heavy rain, high winds, and other severe weather conditions can cause unexpected damage to roofs, leading to immediate issues. But don't worry! At Kayco Roofing in Lawtey, FL, we have you covered!
We understand you deserve to feel your home is protected when unexpected emergencies arise. We're a reliable roofing company with years of experience in the industry. Roof leak repairs in Lawtey, FL will no more be an issue.You can take control and provide your family with the protection they need! Don't let stress and anxiety take control, and let our professionals give you a hand!

Get To Know Our Reliable Roofing Solutions
Consequences Of Unattended Leak Issues
At Kayco Roofing, we understand the stress and worry you may experience during emergencies, so we provide quick and accurate leaking roof repair solutions to help restore their homes in no time. Some consequences of leaving leaks unattended include:
1. Water Damage
Water damage caused by leaks can harm a home's foundation, leading to costly repairs. Kayco Roofing can help by inspecting the affected areas and applying necessary repairs to prevent further damage.
2. Mold Growth
Leaks that cause damp conditions can grow mold and harm residents' health. We remove the mold growth and prevent it from returning with our high-quality techniques.
3. Energy Inefficiency
Leaving leaks unattended can impact energy efficiency, leading to higher utility bills. We can address this issue by identifying and fixing any leaks, ensuring you save money on utility costs.
4. Damage To Possessions
Unattended leaks can also damage valuable possessions inside the home. Kayco Roofing's prompt leak repair services can help prevent further damage to your belongings, protecting your investment and restoring your peace of mind.
Benefits Of Working With Our
Roof Leak Repairs In Lawtey, FL
Expertise:

We have worked on many projects, from small repairs to large-scale replacements. So we can provide tailored solutions.

Advanced techniques and state-of-the-art equipment:

 We use only the latest roofing technologies to provide efficient and accurate solutions that stand the test of time.
How To Get Our Services?
Experiencing the feeling of being helpless in the face of unexpected emergencies is a thing of the past with Kayco Roofing in Lawtey, FL. We're here to give you peace of mind in just 3 simple steps:
Schedule an inspection:

Contact us by phone or email to schedule a roofing inspection. We will identify any problems and give you a transparent cost estimate.

Receive a plan of action:

We will provide you with a detailed action plan based on our assessment. Then, we will proceed with the necessary repairs.
Rest Easy:
Our comprehensive warranty ensures your roof is well cared for. You can relax now!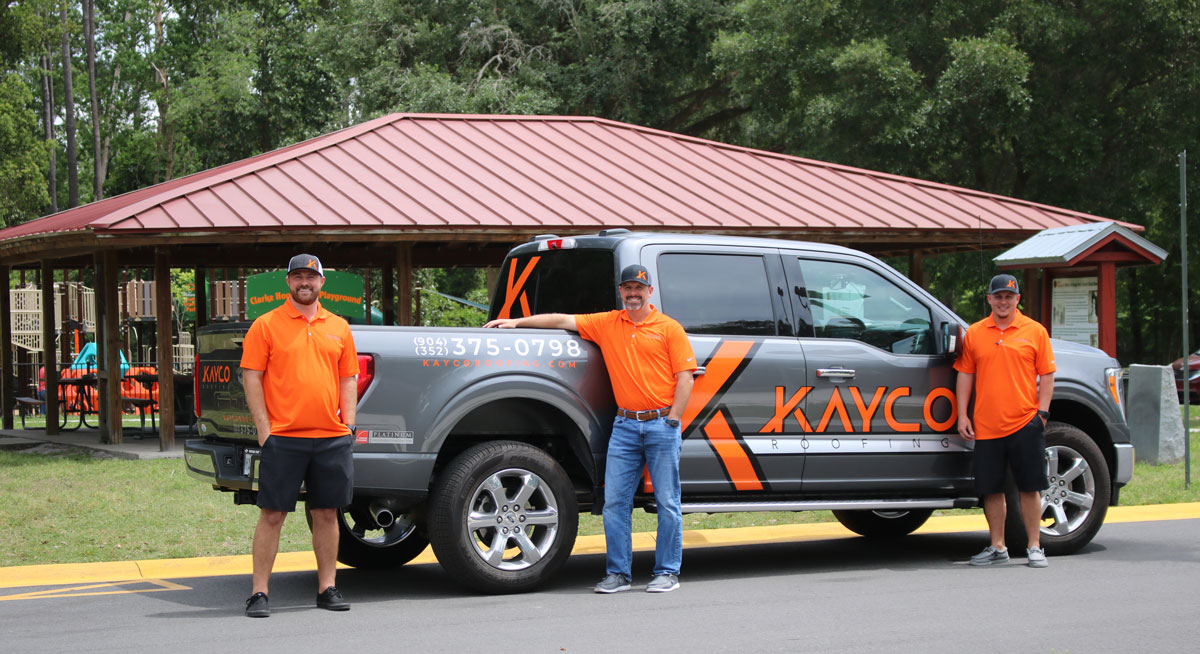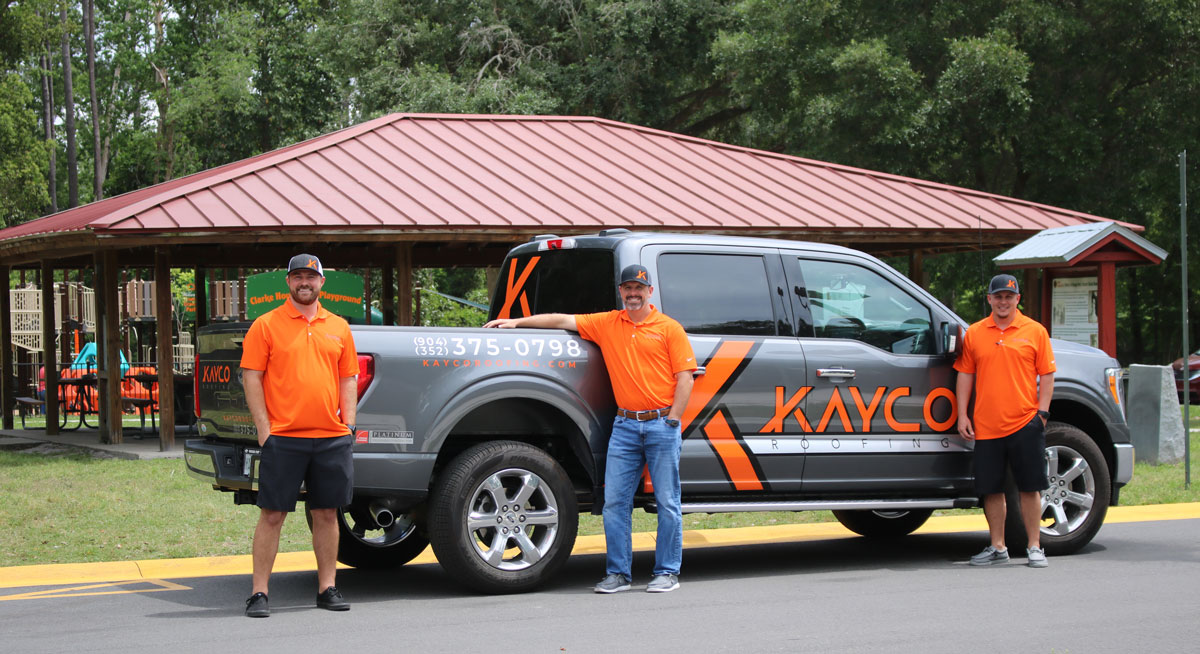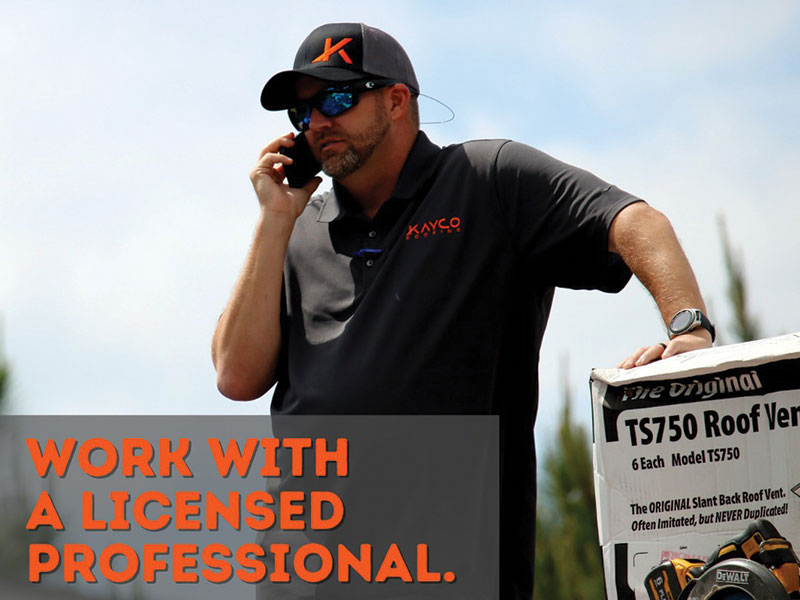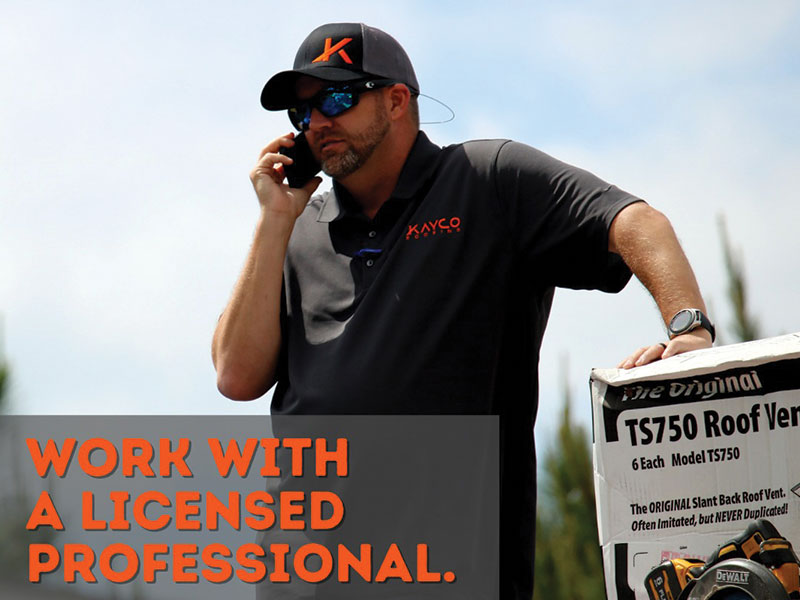 Don't Put Your Home At Risk; Work With
Kayco Roofing
Today!
As a homeowner, you should avoid the negative outcome of incurring additional costs and damage by attempting to fix your roofing emergencies yourself. This could lead to extensive repairs and higher costs. Also, it could pose a safety risk. 
By working with us, you'll have peace of mind, knowing that your home is in good hands when it needs us the most! We strive to provide unmatched customer service in the industry, and we work hard to ensure that our clients are 100% satisfied with our services. 
We don't consider a job done until the client is thrilled with the result, and we always aim to exceed industry standards. So you can always rely on Kayco Roofing for the best roof leak repairs in Lawtey, FL!
Contact us today to learn more about our process and how we can help you with all of your roofing needs.